NOTE: StyleTap for Android interim version v0.8.034 is needed to run under Android 11. See the v0.8.034 Release Notes for more information.
Download StyleTap
®

iOS Wrapper SDK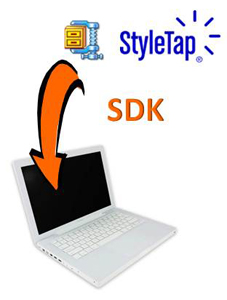 Current version: 0.1.005 [ Release Notes ]
NOTE: after Feb 1, 2015 iOS apps created using iOS Wrapper SDK cannot be uploaded to the App Store due to Apple restrictions.

Using the iOS Wrapper SDK
Download (and read) the Developer Guide to ensure that you have the development environment and the skillset required to create native iOS applications:
iOS Wrapper SDK Developer Guide
Download the SDK Template for use in your iOS XCode environment:
iOS Wrapper XCode Template